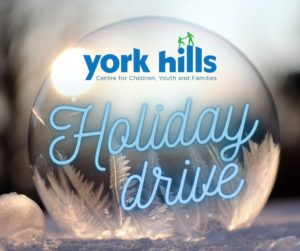 Each year, York Hills holds a holiday drive to help some of our families cover basic needs like food, clothing and school supplies. We are hoping to continue this tradition this year, but with a careful eye on keeping our families, staff and generous supporters safe. Unlike previous years, we are asking for any type of gift card or a monetary donation. With monetary donations we will purchase gift cards from retailers.  All gift cards will be given to our families who will then purchase gifts, food and clothing for their family.
If you are able to assist, please call 905-503-9560.
Stay safe and be well.