What is Family Mediation?
"A cooperative problem-solving process in which a qualified and impartial neutral third party, the mediator, assists mediation participants to resolve their family disputes by mutual agreement"
MEDIATION HELPS PEOPLE SOLVE FAMILY PROBLEMS TOGETHER. IT IS A COST-EFFECTIVE AND FLEXIBLE ALTERNATIVE WITH THE GOAL OF ACHIEVING THE BEST POSSIBLE OUTCOME FOR ALL INVOLVED IN FAMILY BREAK DOWN, SEPARATION AND DIVORCE. WE CAN HELP YOU RESOLVE THE DECISION MAKING, THE PARENTING TIME, THE CONTACT, CHILD SUPPORT, SPOUSAL SUPPORT, PROPERTY DIVISION AND ASSIST WITH DEVELOPING A PARENTING PLAN IN THE BEST INTREST OF THE CHILD.
History and face to face Services
Since 1999 our Family Mediation and Information Services has been providing services to and for families in York Region through the Family Law Information Centre (FLIC) Our services include:
Information and Referral Services
Provided by our Information and Referral Coordinators (IRCs) at the Family Law Information Centre located inside the Newmarket Courthouse room 2103.
Monday to Friday 9:00 am – 4:30 pm 905.853.4816
On-site Mediation
Is available free of charge on a first come first serve bases for parties on the day of their court appearance. On-site mediation is for narrow issues that can be completed including intake screening in approximately two hours. Room 2103 in the Family Law Information Centre. Court and self-referrals welcome.
Mandatory Information Program (MIP)
As a mandatory part of the family court process participants will hear about basic legal information such as family court process' and alternative dispute resolution methods which can be used as viable alternatives than using the court to resolve family law matters. Information regarding the emotional impact family breakdown can have on children and adults will also be discussed. Applicants attend on Tuesdays / Respondents attend on Thursdays. Time: 6:00 p.m. to 8:00 p.m. in courtroom 205 at the Newmarket courthouse 50 Eagle St West.
Need to change your MIP attendance date? Call the IRC at 905.853.4816
Off-site Mediation
We have a roster of qualified mediators who will work with you to address more in-depth family issues. This service is available for parties who wish to try mediation even if they have not begun a court process. Off-site mediation can be completed in 3 -8 hours. There is a fee for off-site mediation, based on household income and the number of dependents.
Anyone interested in accessing off-site mediation should contact our IRC at the Family Law Information Centre
905.853.4816 or email irc@yorkhills.ca
Below you will find a list of resources. Expand the desired resources and click the download link
CLEO Resources
Family Law: Legal Help is a new publication which gives information about services and organizations that offer family law help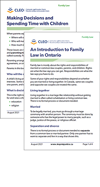 An Introduction to Family Law in Ontario and Making Decisions and Spending Time with Children have been updated to reflect changes in family law. The changes include:
replacing the terms custody and access with decision-making responsibility and parenting time
using an alternative dispute resolution process or family dispute resolution process to resolve issues out of court
updating the rules when one parent wants to relocate with a child
All CLEO resources are provided free of charge. For a complete list of our publications, please visit www.cleo.on.ca.
step-by-step information on common legal problems
Visit www.stepstojustice.ca for step-by-step information on common legal problems.
For help filling out family court forms, see CLEO's Family Law Guided Pathways
AFCC-O-Parenting-Plan-Guide-Version-2.0
AFCC-O-Parenting-Plan-Template-Version-2.0
CLIENT SELF REFERRAL to MEDIATION - Community Referral
Resources York Region October 2021
VIRTUAL - I've Finished Mediating - Now What - 2020
Mediation Memo (October 29, 2020)
Disclosure Posters
Settlement Conference Rules
Case Conference Rules
Financial eligibility for Legal Aid Ontario services
Moving Ontario Family Law Forward Act - March 2021
Strengthening and modernizing Canada-Divorce Act-March 2021
Child Development Checklist
Sample Parenting Plan
Newmarket Mandatory Information Program
NEWMARKET MANDATORY INFORMATION PROGRAM
 I have attended the MIP – what do I do now?
Case conference:

Your next step will usually be a case conference, which normally isn't scheduled for the same day as the MIP.
If you are bringing or responding to a motion to change you must attend before a Dispute Resolution Officer ("DRO") before you can take further steps. DRO dates are available at First Appearance court.  If you do not have a First Appearance date, go to the family law counter.
If a case conference has been scheduled, you will have received a Case Conference Notice from the other party that tells you when to come to court.
If a case conference hasn't been scheduled and you need to schedule one, go to the family court counter.
Filing your signed MIP Notice:

You will need to file your signed MIP Notice in the continuing record – but you can file it when you file your material for your case conference or when you attend First Appearance court. You don't need to make a separate trip to the courthouse to file your signed MIP notice.
If you want more information about mediation or Legal Aid Ontario:
Go to the Family Law Information Centre in the courthouse. You can contact them at 905-853-4816.
If you want more information about court procedures and family law:
Go to the Ministry of the Attorney General website and click on Family Justice. You'll find a Guide to Procedure, an online tool to help you fill out court forms and brochures and links to more information.
If you have feedback about the MIP session you attended:
Family Law Bookmarks
Tips for Parents
Mental Health Services Overview
Mental Health Services Overview
The following is an overview of the different types of mental health services which are available:
Psychiatrists are medical doctors who specialize in psychiatry; as such they can diagnose mental illness and prescribe medication. There is therefore no fee to the patient as this is covered by OHIP. Your family doctor would be able to provide you with a referral. Some provide therapeutic services so ask if this is the case.
York Region hospitals offer mental health services to children, adolescents and adults free of charge. This is an emergency service and referrals to the Child and Adolescent Clinic comes from your family doctor.
Agencies offer services free of charge, or for a nominal fee. Sometimes fees are calculated on the basis of income. Some of these include York Women's Centre, Catholic Community Services of York Region, Jewish Family and Child Services, Family Services of York Region.
Psychologists can diagnose but cannot prescribe medication. Some can be found in hospitals or agencies. Others are in private practice and the client must pay a fee. If a client has insurance through the workplace it may cover some or all of the service depending on the plan.
Psychotherapists cannot diagnose or prescribe medication, but conduct therapy. There is a fee for service. Some are able to access third party (workplace) insurance as well.
Social Workers offer a variety of services and are governed by a provincially accredited association. Social workers work in a variety of settings including hospitals, Children's Aid Societies, Mental Health organizations and more.
Children's mental health agencies offer service to children and their families and there is no fee for this service.
When contacting a mental health practitioner, ask whether they have experience in the field of separation or divorce. If you are investigating service for your child, ask also if the practitioner has experience working with children.  It is your responsibility to ensure you are comfortable with the type of mental health service you obtain.
211 is now available in York Region to assist families in locating services.
How do I access the service?
For more information on York Hills Family Mediation and Information Services contact the Family Law Information Centre (FLIC) for a free consultation.
Newmarket Family Court
Please note that this office is operated as a walk-in centre. Service is provided on a first come, first serve basis.