Week 8 announcement from the Chief Executive Officer
Dearest Everyone.
We are 2 months in, and believe it or not, our momentum as an organization is growing even stronger. More family counselling sessions, more individual counselling sessions, more webinars, more virtual day treatment classes, more media posts, more quality assurance reports, more call-in single sessions, more client  assessments, more CCAAS consultations, more mediation sessions, more ADR consultations, more days in residence with everyone healthy, more planning, more creativity  and  all within the context  of us wanting to get even better at what we do. There really is no going back to how things were!  Changes to programs are being made by our many Managers and we must take what we've/they've learnt and build to an even stronger York Hills future. 
I have spent most of the last week in and out of team meetings, impressed by the desire of all to continue to do more. The reality of our long waitlists has been heard and many of our staff have offered their time and skills to help reach out to as many families as possible and provide the much needed support. This is truly momentous as we are moving to a "whole agency approach" with a willingness of staff to do whatever it takes to deliver our essential services.
This week in recap:
-Our very own Nancy D.  has published and emailed the first edition of the York Hills Good News Newsletter. Laugh, cry and even bake all in one read! What more can we ask for.
-Our very own Nathaline saw an incredibly busy week and has done an amazing job in promoting YH, our so many initiatives and Children's Mental Health Week. Thank you Nathaline.
-A shout out to Qian and Lisa C. for their tireless work in producing our weekly reports and in working at improving the quality of our services.
-All can I say about Vibhuti and Pooja's webinar, which I had the pleasure of joining, is wow!! A great tag team of OT and SLP, with incredibly practical advice for managing our children now and always.
-ADR has launched its consultation services to multiple CAS providers across former Central East Region.
-Job descriptions have been updated and finalized by Tracy Halliday and Joanne G. Thank you Tracy and Joanne.
– Marina, using Facebook live, will be answering questions on children's mental health this evening.
-Our community outreach workers Karen, Alyssa , Uma and Nathalie G. are doing a great job with waitlist management.
-Thank you Larisa and Cindy for supporting emergency daycare workers via single session consultations.
-Thank you Joanne P. for being on-site much of this week managing all our properties, PPE, mole infestation, etc.
-Thank you Onika for continuing to hunt down PPE.
-Thank you Ramin and Tom for your minute by minute IT support.
-Thank you planners of our first virtual baby shower…congratulations Victoria!
So much happening so hard to acknowledge everyone!!!
As Ontario is on the cusp of a planful and slow reopening, organizationally we are also beginning our early days planning around what a safe transition plan might look like.
Our return to onsite work priorities are to :
Hear our staff regarding their return to onsite work concerns.
Protect  the health and well being of all our staff and clients while on and off premises.
Prepare our staff  for a safe return to onsite work.
Support our staff and clients with all that they need as they transition back.
Care for our staff throughout this period, however long it takes.
In the coming weeks there will be a quick survey to all staff asking for input on your return to work concerns and areas that you want us  to be most mindful of.  Our draft  post pandemic return to onsite work plan will then be finalized based on Public Health recommendations, Infection Control Specialist recommendations and your input. 
Enjoy your weekend and stay safe.
Week 7 announcement from the Chief Executive Officer
Hello Everyone.
End of week 7 moving into week 8 and by all accounts we are all still healthy. As many of you probably have heard the Ministry of Health has asked York Hills  to be accountable for our time and for our services by completing  a somewhat detailed weekly reporting template. This has meant that we have had to look even further into our service delivery approaches and react quickly and accordingly. The good news is that we have been well ahead of the game in moving all of our services onto a virtual platform. The important next step for us all is to fully establish these services as viable treatment options, that are reaching all those in need and producing effective outcomes. This ultimately means that we need all hands on deck, everyone is being asked to help out. Our organizational waitlist continues to grow and as such we will be redeploying staff as needed to target our areas of  greatest need. More to come on this over the coming weeks.  
This last week, as with most other weeks, has been very busy with many exciting accomplishments to note in no particular order:
Virtual day treatment classrooms have launched as a pilot…so far so good.
EFST Community Of Practice with Joanne Dolhanty was well received with plans to offer many more such opportunities.
Call-In service volume is continuing to grow and we are looking at extending the hours.
York Hills has received RBC funding to  hire  two 1 year contract navigator positions. Thank you Donna and Simone.
York Hills participated in a Youth Homelessness strategy hosted by 360 kids.
Marina provided an amazing CBT workshop on managing anxiety during these times.
Abner had 82 participants in his Conscious Parenting workshop.
Eleonnora, Marina and Laurie led staff wellness activities.
ADR team will be launching a consultation service to 6 CAS partner agencies across the former Central East Region.
Mediation services with Deb and Ann at the helm is providing invaluable Mediation services.
Our very own Nancy will be producing a bi-weekly newsletter to keep us all smiling and better informed.
Joanne and Onika continue to purchase PPE wherever they can find it.
Live-In treatment staff are forever persistent in delivering 24 hour care to our clients. Thank you everyone on that front-line.
Management have reviewed and approved clinical constructs document, soon to be circulated agency wide. Thank you Lisa for your work on this.
Last but not least I would like to recognize our very own Dr. Vardy.  As some of you know, Dr. Vardy not only works for York Hills but also Mackenzie Health Hospital. What most of you may not know is that as a hospital employee she has continued to provide her services on-sight at the Mackenzie Health, also picking up on-call shifts as required. Thank you Dr. Vardy from all of us here at York Hills for not only supporting us but also our York Region community.
Take care of yourselves and have a great weekend.
Week 6 announcement from the Chief Executive Officer
Happy Friday Everyone.
As we move into week 7,  I take comfort in the recent Public Health report that the  Ontario Covid-19  trajectory of cases is beginning to flatten and that our government is starting to consider a plan to slowly transition us back to our former lives.  The actual implementation of this plan may still be sometime away and any plan that is implemented will be based on a  "phased-in" model. I believe the Ontario governments phased-in model will start with only certain areas of our society returning back to work, etc. (typically where risk of exposure is believed to be lowest).
From the York Hills perspective, we continue to work on a draft of a "post pandemic return to work plan" with considerations to developing a "phased-in" model. It is important for each of you to note that the health of our staff and clients will remain the priority in any next steps ( which  may still be months away).  Please take note that the new  virtual clinical and administrative processes, programs and skills being developed today will enable us to continue to  deliver our services until such time as we are physically able to fully return to work. The investments you are each making today in these alternative modalities of service delivery are critical elements in creating  a safe and effective agency post pandemic return to work plan.  
There are so many virtual stories of creative York Hills service delivery that we are hopeful will  drive our therapeutic work into the future. Here are just a few examples:
Matt  and Karen R. delivered a few kid friendly educational puppet shows to our Day Treatment clients.
Intake Network hosted by Janet had dozens of organizations participating and sharing.
Day treatment team and IT is soon to launch a virtual classroom.
Amy and Ariel delivered an on-line live webinar on understanding Anxiety to an audience of over 80 participants.
Uma delivered a Tripe P webinar to about 50 participants.
Laurie, Nathaline, Marina and Eleonora delivered wellness breaks to dozens of staff.
Lisa V. supported the development of many of our webinars.
CCAAS team completed another virtual assessment and consultation with both internal and external staff present.
Zero-6 used virtual play therapy to deliver sessions.
Here to Help phone line has started to pick up on calls.
Joanne P and Onika continue to locate and purchase PPE.
Our Live in treatment staff team, while wearing surgical masks, are doing a great job of delivering care.
Nancy sewing more and more masks.
Lisa V., Ramin and Anna for hosting zoom training.
ETC…ETC….ETC…..
Thank you and stay safe…and keep smiling!!!!
Letters from the Chief Executive Officer
Good Afternoon Everyone.
Week 3, with all of its "ups and downs,"  has indeed almost come to a close for many of us as we all settle further into our new "normal". For many it has been a week of new challenges, stresses, and for some, even a week of new found opportunities. For others, like our steadfast Residential Team, it has been a week of  being on the front-line and  persevering to  almost seamlessly deliver an essential service  in a world of many unknowns. What I am very happy to report is that I have not received a single report of ill health from any of our staff! Truly remarkable and a blessing!!!
Again, I want to extend my full gratitude to each and every one of you for all that you do each and every day. I was asked yesterday, as I attended Robin Marshment's  CAS Hosted Services team meeting, what I have learned about myself through this COVID-19 process?  What I reflected back to her team  was how absolutely dependent I am on every single one of you across York Hills and how remarkably comfortable I am with openly admitting that. It's each and every one of you that is truly helping to run this organization, and this organization, I am proud to say,  is Open  for Business! Deemed an essential service or not by the government, I believe we all immediately felt  a moral obligation to do what we could in whatever way we could in this time of unprecedented need.
For those of you that may not already know or for those that want to know I have attached  a brief summary of all currently available York Hills services:
-Our Intake department is open and accepting new referrals.
-We have a huge waitlist (400 plus) and we are actively offering waitlist supports to all clients waiting for services.
-We are delivering all our community therapy services via technology (Play Therapy, COMPASS, Goal Focused Therapy, Brief Therapy Sessions, etc.). 
-Our respite program is operating remotely.
-Our residential program is operating (residential is in process of assessing a child for the 7th bed). 
-We are launching a barrier free call-in service next week for all community members 0-18 years and their caregivers.
–Day Treatment assessments are continuing as is DT clinical support services via technology.
–Navigation Services for the community is available via stand-alone phone line.  
–Assessment and Consultations team is offering consultations.
–CAS partnership programs are operating via technology.
-ADR services are operating.
–Family Mediation services are being delivered via technology.
-Lots of workshops being delivered with a mental health focus (many more to come).
-Mental health and coping resources distribution.
There's more happening at York Hill's but the above list captures the main functions of our essential services.  We will keep this list updated as it evolves. Hospitals and 310-COPE are inundated and really can't manage the volumes. The more we can dp the more we help our community.
For those that are not working this weekend please take the time to rest,  recharge and enjoy time with your loved ones.
Stay home and stay safe…your health is our priority.   
Updated Letter from Chief Executive Officer
Letter From Chief Executive Officer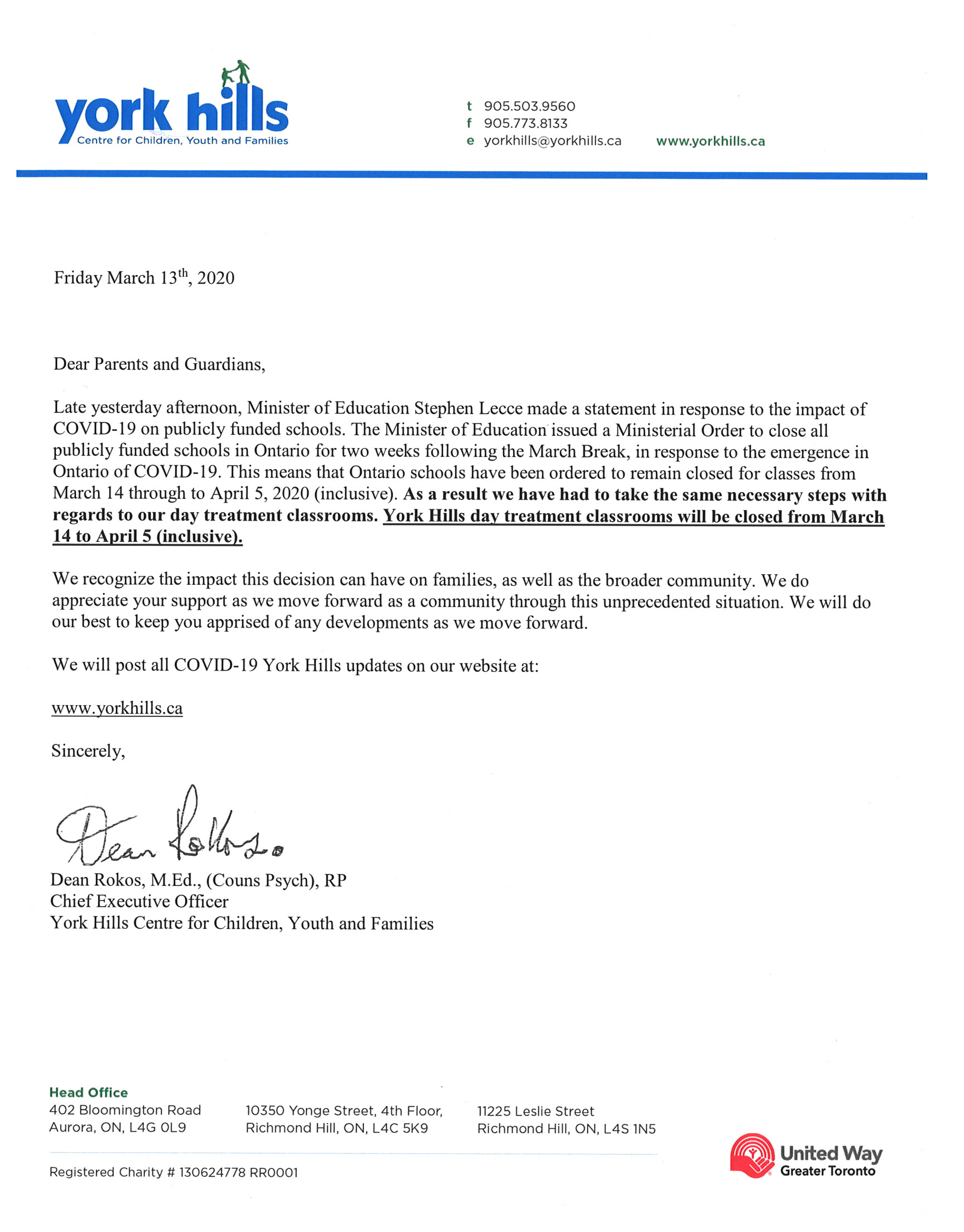 Walk-In Clinic
In the interest of supporting the ongoing efforts to limit the spread of COVID-19 to our community, please note that our Walk-In Counselling Clinic will be closed until further notice. We apologize for the inconvenience this may cause.
WorkShops

CAREGIVER WORKSHOPS: Please note that our caregiver workshops will be cancelled until the end of April 2020.
Workshops within this time include:
❌ Triple P Seminar Series (March 10, 24, 31)
❌ Many Faces of Anxiety (March 24)
❌ Bringing Your Family into Focus (April 27)
Please stay tuned as we continue to monitor the situation and we will update everyone as soon as possible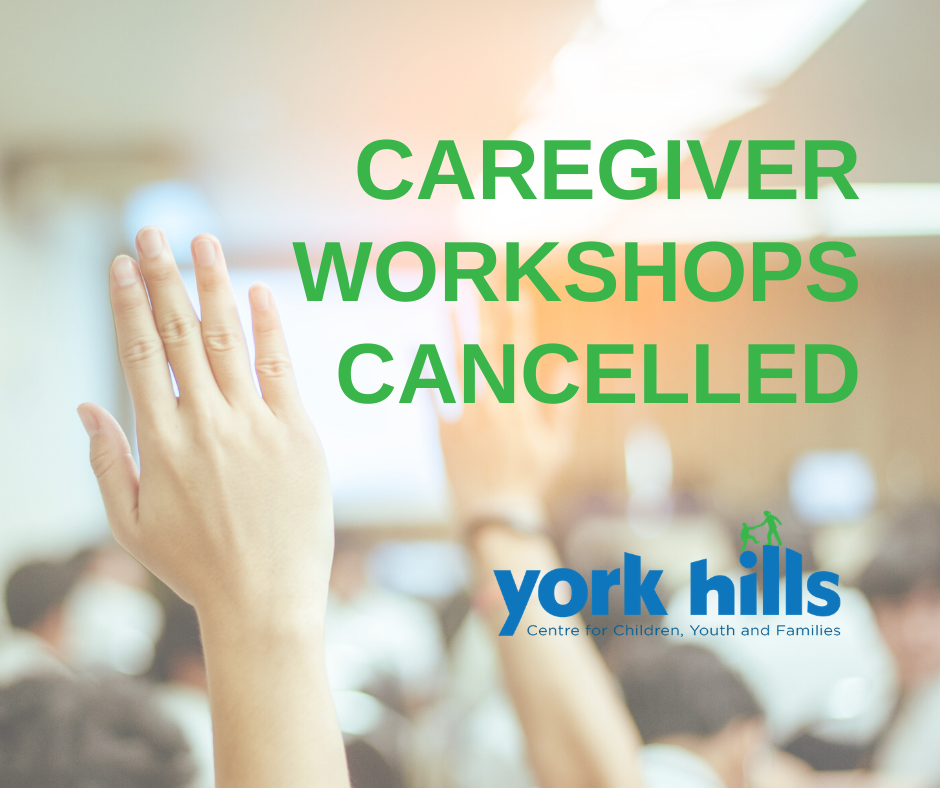 Family Mediation Information Services
Family Mediation Services
Please note in response to public health concerns due to COVID 19 the Superior Court of Justice is suspending all court hearings, please do not come to court.
The Family Law Information Centre (FLIC) and on-site mediation has also been suspended and the FLIC is closed until further notice. All scheduled Mandatory Information Program (MIP) sessions have been cancelled and will be rescheduled to a future undetermined date. All parties will be notified by mail once normal activities resume.
The Family Mediation and Information Service will continue to operate in a limited capacity via phone and email. If you would like to speak to one of our Information and Referral Coordinators regarding community service information and non-legal resources related to family law such as helpful websites, and family law guides or if you would like information or a referral to our Off-site Family Mediation Service please
call 289-380-7088 or email at irc@yorkhills.ca